Well I think this is certainly a best case scenario outcome for "all good things to those who wait".
Had I tried to do
RSD
back around the time I'd originally conceived it, or even in that first 10 years it would be another animal almost entirely.
Over the years the story has slowly come together. Like a good whiskey it needed to age.
I've had aborted start-ups before with other collaborators . . . as far back as
Steve Niles
back in the early 90's all the way to going 'round the bend with
Todd Farmer
on a possible screenplay a few years ago. The project always evolves.
I've still got screenplay very much in mind but first thing is first, get it out there, establish it as it's own entity, hopefully gain a larger following.
At the beginning of this thread I spoke of the "current" possibilities as they were in September of 2007, that too has evolved.
At the time I was working with
Todd Farmer
, and that had much pleasure. Before we got very far into sussing out a full cohesive story
Todd
was called away to get paid on something
I too, slowly turned my attention to more immediate concerns and there went
RSD
, over to the back-burner as it has so often done in the past
Well that's OK, the back-burner has long been my friend, there are a few sweet projects warming there even now.
But the issue here is
RED SKY DIARY
.
Things were rekindled a few months ago when I decided to work more on personal illustration (which I hadn't made time for in a loooong while).
I also tapped into another idea I've had brewing since the early 90's - Creating illustrations and then having writers take that and write a story around them, the normal creative process in reverse. I have a nice handful of those illustrations waiting in the on deck circle for that particular project. The idea was to have an
RSD
story (indeed, the opening act of my proposed film adaptation) act as the anchor for that book. I'd do 2 full page illustrations (not 1, as with the other stories) for the
RSD
entry which would also feature a slightly more expanded story than the rest.
All I needed was a writing partner . . .
Enter
Mark Hosack
.
I'd bounced some stuff off
Mark
about
RSD
in the past and he seemed to have a good grasp of what I was attempting to do with the material.
Farmer
being way too busy to pick up where we left off I fired it at
Mark
, asked him if he'd want to write the short story with me for the illustration book (still no title
Mark
and I hit it off from the get-go. He was very interested.
We began the journey together and have had some great chemistry. The farther we went with the skull/spit-ball sessions the more I realized having an
RSD
story as only a part of another book was not going to do it justice. Wouldn't be fair to relegate a chapter of this sweeping, epic story to the pages of a collection regardless of the quality of the other material.
So to get you up to speed here's where things sit.
Mark
and I are planning a
Red Sky Diary
novel, the story of
Gallows
, though not a biography. It's all about the latest events of his life that lead him into the final leg of his Clan's journey, the crescendo to 700 years of open war against the
Mudir
.
Mark
and I are writing it as a novel, but that novel is two-fold. There will be two versions, the novel itself with a few illustrations (or not), and an oversized (coffee table style) ILLUSTRATED version. Then we see what the cards hold for us. Currently we're in the midst of making a deal with the right literary publisher.
So for you few who care to seek out
RSD
and populate this thread -
Here's a preview of some of the art, definitely the direction the illustrations will take. This is the latest, greatest vision for the character.
The first illustration was planned as the "
Entre Act
", opening illustration for the unnamed illustrated book. The second as the rear bookend illustration.
These will now be part of
Red Sky Diary: A Tale Of The Mudir Hunters
.
All of the full pagers will feature captions, selected passages from the text which have relevance to the image.
Here's a taste -
Precipice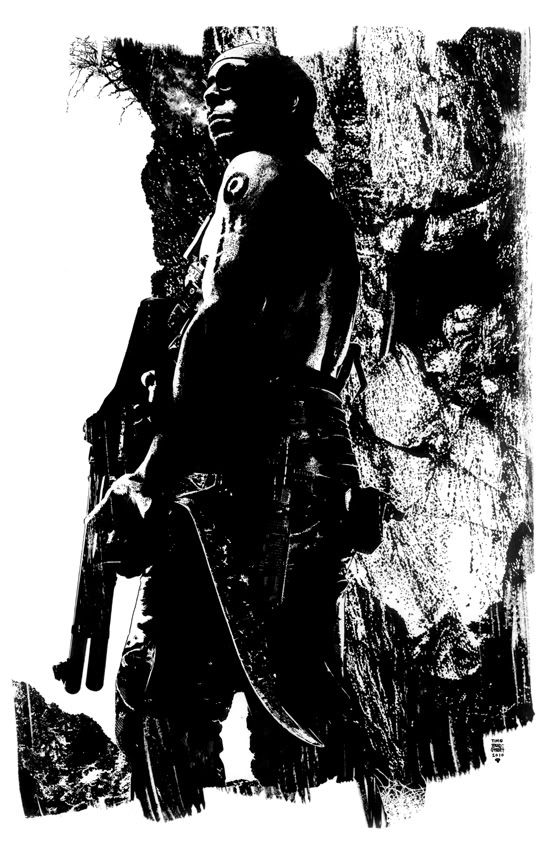 Caption: "He scorned concealment and strode the rugged battlements ready to smite the foul reeking beasts. All veneer of civilization fell away, lost with the souls of his dearest blood.
That which was left him was primitive hatred, rage consumed, he was a merciless savage from a darker age."
Aftermath
Caption forthcoming.
I'll update as much as I can as we move forward.
- Tim