Tom and I are proud to announce the forthcoming Graphic adaptation of
Dark Country.
We're still working out the exact content beyond the art itself, and the short story by
Tab Murphy
.
And we're still spitballing the exact format of presentation . . .
But I can tell you it will be a hardcover book with artwork by the incomparable
THOMAS OTT
!!!
This was a dream come true for our own Tom Jane, as he's a huge fan of Thomas Ott's work.
I myself was not aware of Ott's work until Jane turned me on way back when the idea for this GN came into existence.
Obviously, I'm also extremely thrilled.
Here's an exclusive peek at Ott's art from the book and his famous scratch-board technique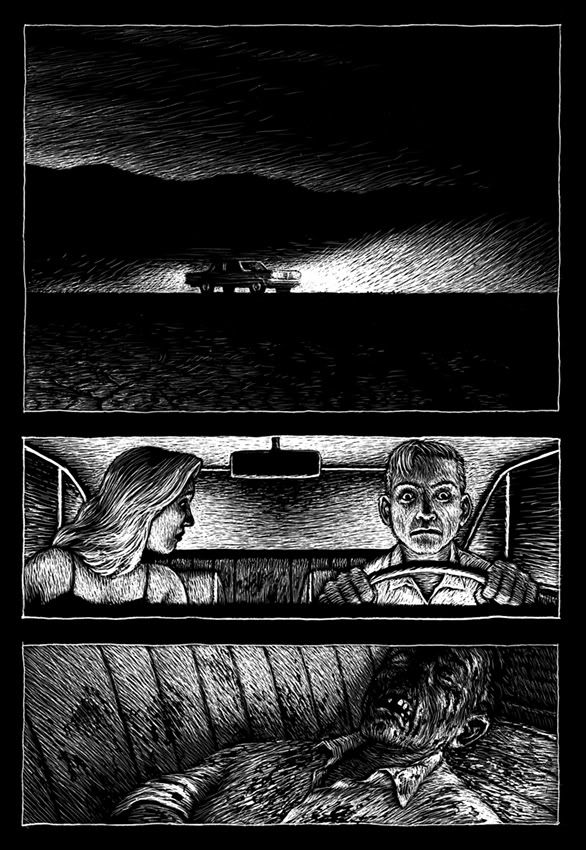 Can't wait to show it all off to everyone.
We're in production as we speak. The artwork is DONE.
I'm busy doing preliminary design models, working on the cover concept, and compiling the extras we'll trim out the book with.
Even though you may know the story I guarantee you this trip will be worth the experience.
In Tom's own words, this truly IS the director's cut.
Ray Zone is even trying to talk us into doing 3D in black and white - What do you think?
So, the official breakdown is -
Dark Country - The Graphic Novel
Hardcover
Adaptation and art by
Thomas Ott
Story by
Tab Murphy
Produced and directed by
Thomas Jane
Designed by
Tim Bradstreet
Production -
Marshall Dillon
We're talking about releasing it exclusively for a couple weeks as a digital download from Comicsology or something, while we're waiting to get the actual books back from our printer in Korea.
The idea there is to get the product out sooner than we could if we waited for the printing, shipping, and distribution.
More soon, including some sneak peeks at the art.
- TB