Heya Metal fans -
Crossed another one off my fantasy list last month when I sat down with
Judas Priest
frontman,
ROB HALFORD
, here in San Diego.
To say that I've been a massive fan of
Judas Priest, FIGHT,
and
Halford
music for the better part of the last 30 years would be an understatement.
That music has fueled a shit-ton of illustrations during my career, most recently my illustration,
Hell Patrol.
I can't tell you how cool it was for me, personally, to sit down and have a pro-to-pro yak with him.
It was rather like meeting Lennon, or Hendrix, or some other iconic music legend (take your pick) for me.
Halford's lyrics
, his writing, is truly inspiring to me in the same way that things like
Blade Runner
inspires me.
It's great creative grist.
Halford
himself is a very down to earth, sensitive (in the best meaning of the word), extremely creative individual.
He's got this nobility, and intangible quality, the same stuff that comes through in his music and in his performance is 100% real.
The thing I really loved about him was how very humble and self-efacing he is.
He'd fit right in here, he's a HUGE fan of movies and loves comics.
I was offered a chance to illustrate an article featuring Halford by my pal,
Josh Bernstein
, editor, art director, publisher of
ROYAL FLUSH MAGAZINE
.
If you have not heard of or seen a copy of the mag I suggest you check out the two most recent issues, it's illustrated pop culture BLISS.
I'm a huge fan of the magazine anyway so it was a real treat to be asked to contribute.
But illustrations didn't seem enough. When I learned the illos in question would accompany an interview I sent off an impassioned plea to Bernstein . . .
I HAD to be the guy to interview Halford. I'm a Priest-file after all. I knew he had a home here in SD so there was no travel to complicate it.
And I thought it a unique opportunity to have an established creator like mesself go mano-a-mano with an iconic creator from another field.
Josh loved the idea and completely recognized the value of it.
I didn't want it to be the same 'ol banal interview thing. I wanted to know what inspires him. I had to find out what was behind those lyrics that have driven so much of my work and listening pleasure.
I wanted to do something you don't see too much of these days and was also inspired by the old 90's INTERVIEW MAGAZINE where you'd have Gary Oldman interviewing Tim Roth.
Always thought that was a great a hook.
So first I got on the horn with Halford's manager John and we ended up rapping for a little over 3 hours! He was already enlisting me to get onboard and possibly do some art for Halford (more on that later).
It ended up taking some time to get Rob and I together. We both experienced some tragedy in and around our lives during the few months it took to hook us up.
But finally, about 4 weeks ago we met and sat down at a great little hotel down near Balboa Park.
The fruit of that meeting will be on display in
Royal Flush Magazine - Book 7
- On newsstands everywhere, October 12 - 2010
The interview is accompanied by 2wo Halford illustrations by mine own hands - Below is a cropped sneak peek of the the kick-off full pager.
As we get closer to date I'll be previewing goodies and promoting the issue through here (more personally) and through
my Facebook profile.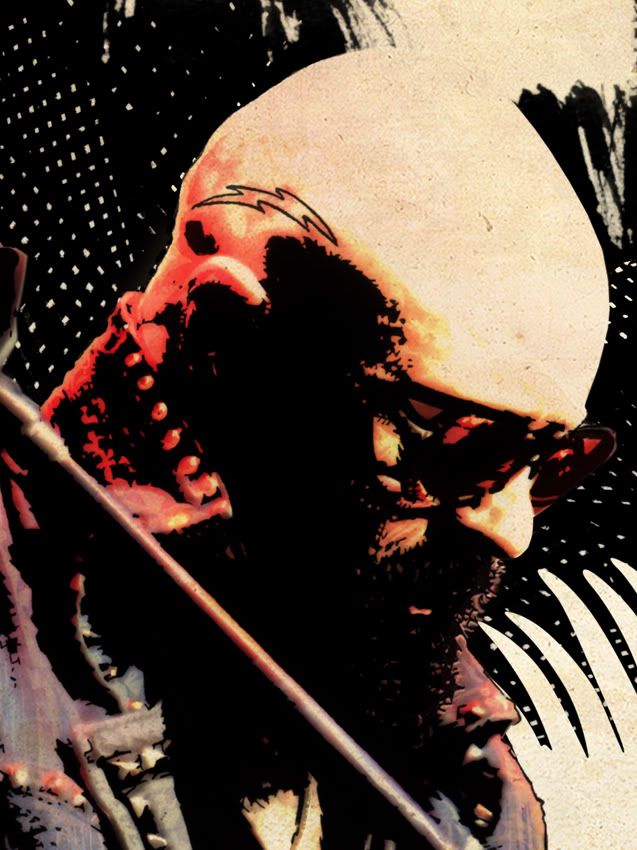 More to come.
- TB
New HALFORD Album/CD,
HALFORD IV -
Made Of Metal
, in stores September 28th 2010
Royal Flush Magazine on Facebook
- Become a fan today, baby!