Howdy friends and neighbors.
In the works is a cover for
David J. Schow's INTERNECINE
due out next year from
St. Martins Press
.
I'll also be providing some interior illustrations which are sure rock balls.
What is
INTERNECINE
and who the bloody Hell is
Dave Schow
you ask?
Well
INTERNECINE
is a crime/thriller with a fat dose of BLACK humor that reads like
TREVANIAN
hopped up on speedballs and testosterone.
It's bloody fucking BRILLIANT and I don't throw that word around lightly.
Schow is a longtime pal of mine and we've been talking project for years and years.
Schow is a gifted novelist and screenwriter, the man behind the shooting script to
The Crow
, among many others.
His
Outer Limits Companion
is THE bible of the series. David is also a frequent and long-time contributor to
Tim Lucas' Video Watchdog
, and
Fangoria
.
Dave also does all kinds of behind the scenes interviews and docos for filmmakers like
Alex Proyas
(friends since the Crow days) and he provides valuable commentaries for DVD's like the recent
The Hills Run Red
(which he also wrote) and the forthcoming
Thriller
complete series DVD collection. Dave's awesome.
I also HIGHLY recommend you read his recent Hard Case Crime novel
GUN WORK
- Noeland, I'm talking to you. YOU will LOVE this book.
Tom and I are shopping
Gun Work
around right now as a film and don't be surprised if we make an official announcement on that soon.
Additionally, Tom has graciously leant me (and David) his face, bod, and talents and will star in the illustrations of
INTERNECINE
as both of the main characters.
I'll be providing links to some cool
INTERNECINE
propaganda as it finds it's way to the public and premiering some of the illustrations RIGHT HERE so stay tuned.
If you love a great book that keeps you on the edge of your seat and you enjoy intelligent, informed, snap crack dialogue then you are going to love THIS book.
Here's a look at the book jacket design - I jumped off of the stylistic graphicness of
Give 'Em Hell Malone
for this one.
This is a fairly rough design in that the logo and other elements are not yet final. I'm designing a more dynamic logo though it doesn't stray too far from this.
The front cover is pretty final. Hope you dig. More on the way -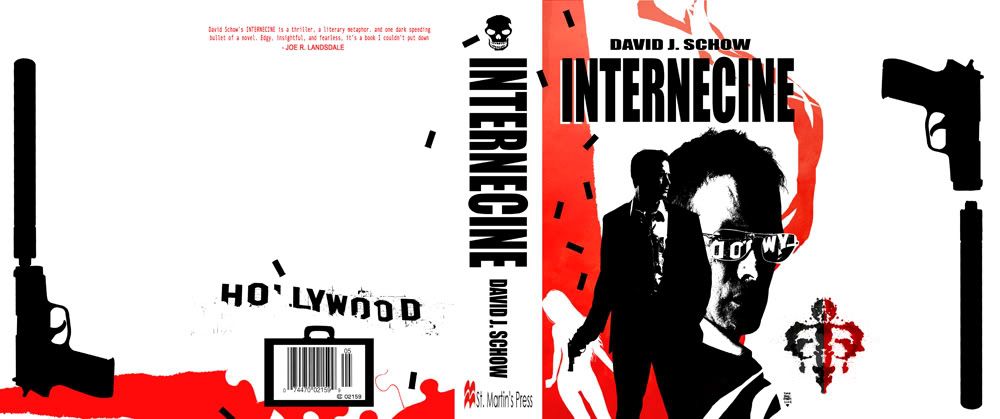 - TB